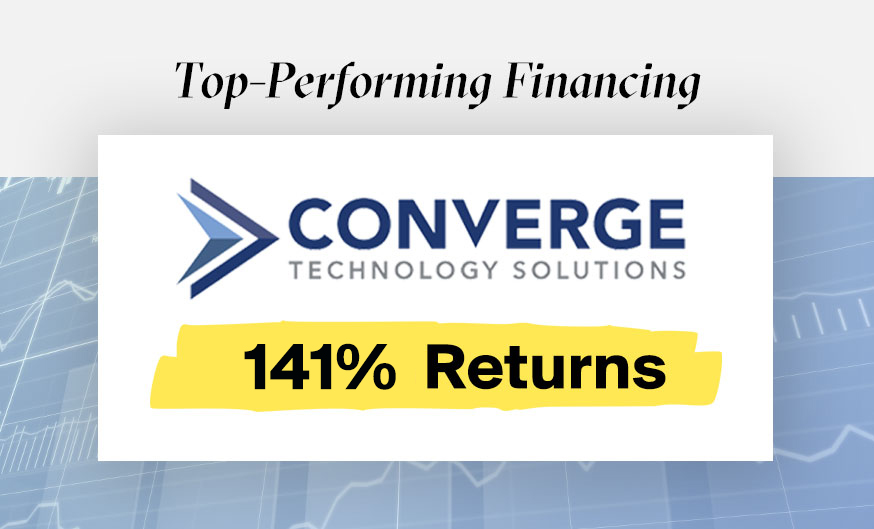 Note: PrivatePlacements.com has NOT received any compensation from Converge Technology Solutions Corp. in connection with this message, nor is the writer an investor in the company
As unbelievable as it may seem, the holiday season has already arrived, and we're here with another deep dive into a fresh financing that recently created big returns for investors.
This week we go back to July for a closer look at a bought deal from Converge Technology Solutions Corp. (TSX-V: CTS), a hybrid IT provider that acquires service providers and incorporates them into its wide network, offering solutions including cloud tech, cybersecurity, digital infrastructure, and analytics.
Converge Technology Solutions Corp. (TSX-V: CTS) Term Sheet
Type of financing: Bought deal
Gross proceeds: $17.5 million
Number of units: 10.8 million
Price per unit: $1.62
Closing date: 07/31/2020
Yesterday's closing price (Dec. 9): $3.90
Gains: 140.74%
Warrants: None
ROI ($100k investment): $140,740
Breaking down the deal
On July 31, 2020, CTS closed a $17.5 million bought deal, selling 10.8 million common shares at $1.62 each. The deal was underwritten by a group led by Canaccord Genuity Corp. and Desjardins Capital Markets.
Following the close of the deal, shares of CTS continued their steady ascent beginning back in March, more than doubling in value by the end of November.
An investment of $100,000 in the offering back in July, would've been worth $234,568 this morning—a net return of $140,740.
Converge Technology Solutions Highlights
A steady acquisitions pipeline
With thirteen acquisitions since Oct. 2017, CTS has demonstrated its ability to land attractive deals, steadily piling on value into its multifaceted platform. Recently, the company closed an additional $46.23 million financing, leaving it cashed up to push forward through its long queue of targets.
Powerful momentum
CTS shares are up 179.3% year-to-date, and progress seems to be unfolding at a healthy, steady pace amid three new acquisitions, multiple financings, and strong analyst coverage throughout 2020. As an example of the latter, at the beginning of December, Echelon Markets analyst Rob Goff raised his share target to $4.60 from $4.00, encouraged by the company's acquisitions prospects and accretive growth.
Strong revenue
Converge's steady expansion and acquisitions pipeline have resulted in excellent revenue growth in turn. In its latest earnings release, CTS reported a gross profit of $52.4 million, a 50% increase year-over-year, and an adjusted EBITDA of $14.6 million, a 150% increase year-over-year.
With a $464 million market cap, it may seem too late to join the party, but if analysts are to be believed, there is likely room for growth on the horizon. CTS has an average price target of $4.25 from six analysts.
To track the story as it unfolds, add the company to your PrivatePlacements.com Watchlist and be alerted every time it posts a new financing. In the meantime, stay tuned for more deals from top-performing companies in the coming weeks.