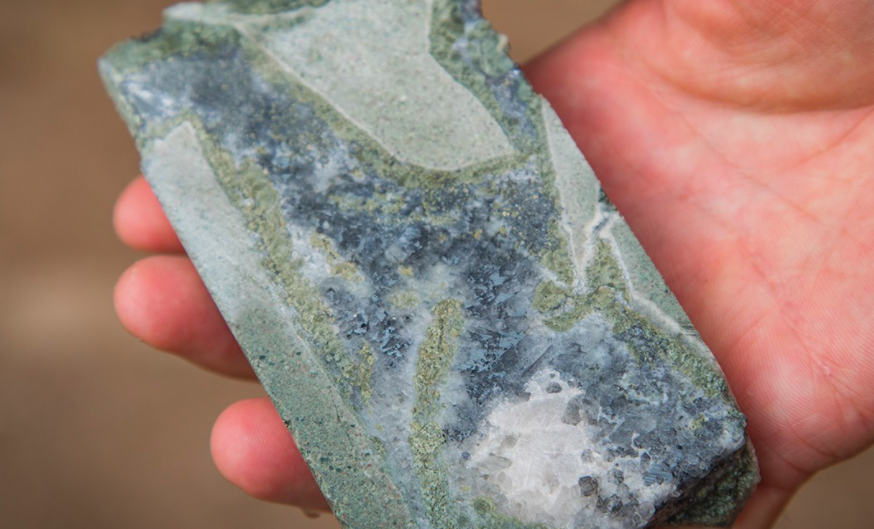 Ore taken from Las Chispas, image courtesy SilverCrest Metals inc. ©2020
Shares of high-profile silver explorers Silvercrest Metals Inc. (TSX: SIL) jumped $1.79 or 15.2% on Thursday following positive new drill results from its flagship Las Chispas project in Sonora, Mexico.
Highlight drill results from the newly-discovered El Muerto target included 1.5 metres of 2,675 silver-equivalent grams per tonne (g/t AgEq) and 1.0 metre of 1,430 g/t Ag Eq. The latest drilling was the company's attempt to drill further into the project's Barbacoa Vein to the northwest, and Silvercrest says that these excellent results may indicate "potential for a new mineralized horizon" at the deposit.
"The recent discovery of the El Muerto Zone continues to show that Las Chispas has significant additional potential as we focus on expansion and new discoveries of high-grade mineralization in the district," Silvercrest CEO N. Eric Fier said in the release, adding that a feasibility study for the study is anticipated in Dec. 2020 or Jan. 2021, along with a "final mill construction decision."
The news comes amid a silver rally following the ongoing US election, which may partly explain why investors seem more enthused by this announcement than when the company hit record grades of 1.7 metres of 73,595 g/t AgEq back in August. In fact, placed next to a number of excellent assays Silvercrest has reported across 2020, the latest drill results aren't quite as remarkable.
But perhaps that speaks to the strength of Las Chispas in general. Through steady drilling over years, Silvercrest has become one of the top players in the silver space, with shares almost tripling since the beginning of 2019. On Thursday, the stock closed at $13.59 per share.