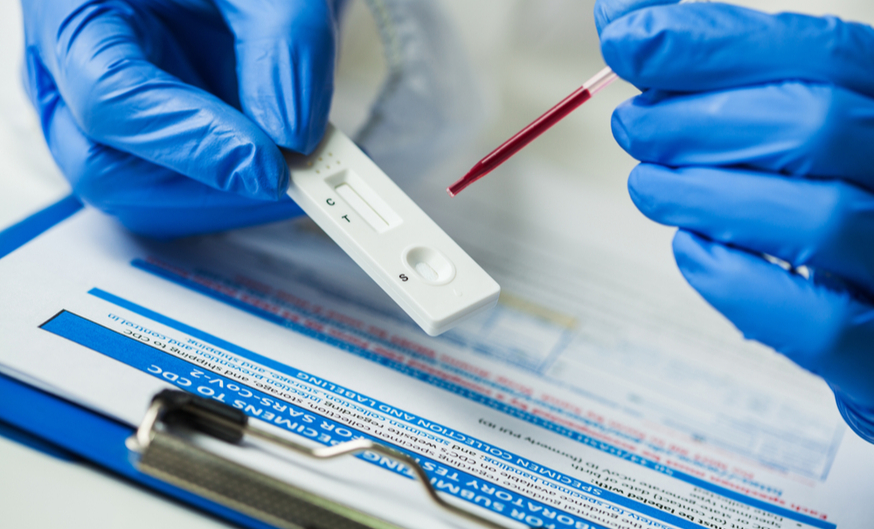 Image: Cryptographer, Shutterstock.com
Shares of ProMIS Neurosciences (TSX: PMN), a Toronto-based biotech company usually focused on developing treatments for Alzheimer's, jumped 7.5 cents on Wednesday on a whopping 16.28 million shares following news that the company has created a highly-accurate COVID-19 antibody test in collaboration with BC Neuroimmunlogy Lab Inc.
ProMIS' test is based on a nanotechnology platform called surface plasmon resonance (SPR), which measures the oscillation of electrons to measure the adsorption of material onto a metal—a common framework used in biosensors. The company says that this approach offers advantages in comparison to enzyme-linked immunosorbent assay, which is the current standard in COVID-19 antibody tests, especially in regards to the possibility of high-volume testing.
ProMIS says that the current version of its test is 99.9% sensitive and 99.50% specific to SARS CoV-2, allowing it to detect exposure to the virus. However, the company adds that a "key step in development of a 'best in class' test is to create an assay that not only detects the presence of antibodies specific for the SARS CoV-2 virus but importantly, also allows to determine whether or not the detected antibodies have neutralizing activity, potentially conferring protection from COVID-19." Through testing, ProMIS has identified 18 antibody targets unique to SARS CoV-2. It hopes to identify whether any of these may be neutralizing antibodies in future tests.
"Starting next year, and throughout 2021 and beyond, we anticipate that billions of people will receive COVID-19 vaccines," CEO Eugene Williams said in the release. "This is an unprecedented effort that showcases the capability and commitment of our industry. But it also means that billions of individuals will be vaccinated with very little information about the durability and variability of response to these new vaccines. We expect that vaccine companies worldwide and top research hospitals and government agencies will be looking for high volume, accurate, next-generation serology tests with the ability to deliver more nuanced data regarding neutralizing antibodies. That is the rapidly emerging unmet need we are looking to serve as we progress development of our potentially 'best in class' SPR-based serology assay."
BC Neuroimmunology Lab Inc., a full-service lab located in the hospital on the University of British Columbia campus in Vancouver, has partnered with ProMIS to develop the test.
Until turning its focus to COVID-19, ProMIS directed most of its attention toward developing antibody therapeutics designed to selectively target toxic compounds associated with the progression of neurodegenerative diseases. The company announced its intention to develop a COVID-19 antibody test back in April, but until Wednesday, investor enthusiasm seemed muted on the idea. Now, with the stock at a sharp 52-week amid an enormous spike in trade volume, the company has big plans for the test.