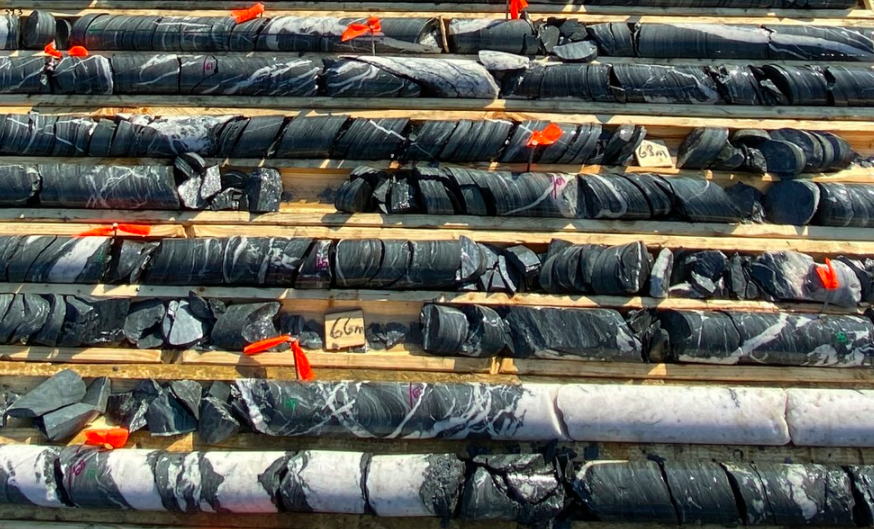 Drill cores from Queensway, image courtesy New Found Gold Corp. ©2020
Shares of New Found Gold Corp. (TSX-V: NFG) rose 41 cents on 2.09 million shares Tuesday after the company announced a new round of encouraging drill results from its Queensway project in Newfoundland.
In preliminary assays from the first four drill holes of an ongoing 100,000-metre exploration program, the company intercepted grades including 41.35 metres of 22.3 grams of gold per tonne (g/t Au), 18.85 metres of 31.2 g/t Au, and 19.0 metres of 92.9 g/t Au. These step-out holes were drilled at the project's Keats Zone in an effort to initially establish the orientation of the gold system, and came back with visible gold and "significant quartz veining."
"We are very pleased that our initial step-out drilling at Keats is demonstrating strong continuity of veining and high-grade gold mineralization," New Found Gold chief operating officer Greg Matheson said in the release. "Historic work and more recent drilling at Keats have demonstrated gold mineralization over at least 300 m of strike and the target remains open along strike and to depth. Our program will continue systematic step out drilling to test this larger target area."
New Found Gold began drilling at the Queensways' Keats Zone back in September, following up on the company's intercept of 19.0 metres of 92.9 g/t Au in late 2019. The company went public in August with a $27.3 million IPO backed by big names like Rob McEwen and Eric Sprott and almost immediately followed it up with the announcement of its ambitious exploration plans for Queensway.
Since New Found Gold began drilling at Keats, shares of the company have jumped $1.32, closing at $3.40 per share on Tuesday after nearly a two-week dip.