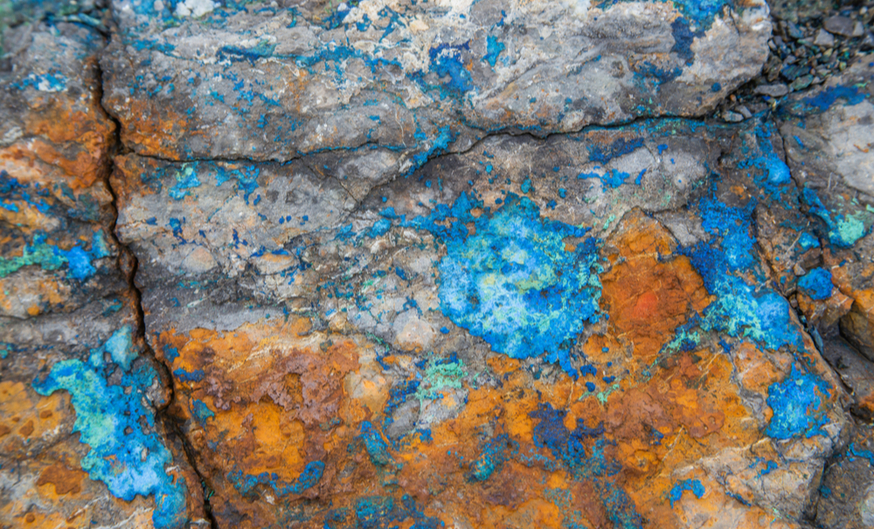 Image: inEthos Design, Shutterstock.com
As gold mining stocks edged down amid a shaky gold price on Thursday, copper junior Kodiak Copper Corp. (TSX-V: KDK) leapt 122.7% on 7.1 million shares following new drill results from its MPD project in southern British Columbia.
The banner news of the announcement was a drill core that hit a 282-metre interval of 0.70% copper, 0.49 grams of gold per tonne, and 2.64 grams of silver per tonne, amounting to roughly 1.16% copper-equivalent (CuEq) from a 75-metre step out from the deposit's "Gate Zone" target. That core included an 45.7-metre interval of 1.41% copper, 1.46 g/t gold and 5.56 g/t silver. or roughly 2.75% CuEq. The company says that the results include an approximate 1:1 ratio between gold and copper, which may indicate further mineralization proximal to a central point.
Kodiak has drilled two holes in this 300-metre east-west target, and says a third is underway. All are part of the company's phase 2 2020 drill program which began in July, with 3,870 metres drilled so far.
"As compelling as our 2019 discovery of the Gate Zone was, it now appears we had only grazed the margins of a much stronger copper-gold zone which we have now successfully targeted," Kodiak founder and chairman Chris Taylor said in the release, adding that "these drill results are among the strongest that have been reported from this well-established copper mining district in southern British Columbia."
Chris Taylor has been on a tear in 2020. Year-to-date, shares of his other company, Great Bear Resources Ltd. (TSX: GBR), have almost doubled, and now with Kodiak shares more than doubling. Kodiak's CEO, Claudia Tornquist, was the former general manager of the massive Rio Tinto Group, and led Silver One Resources' $176 million sale to Mountain Province as a director.