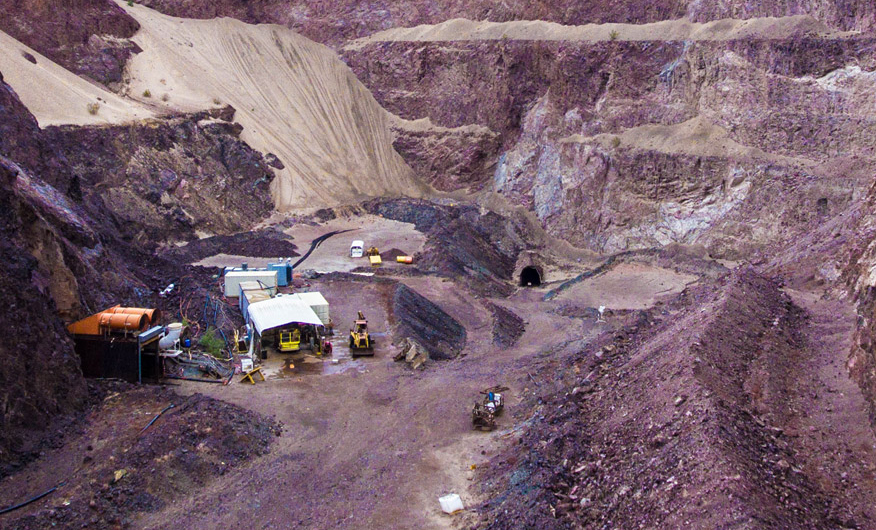 Copperstone Mine, Courtesy Kerr Mines Inc., ©2020
Kerr Mines Inc. (TSX-V: KER), a junior gold exploration company with a flagship project in Arizona, announced a $2.5 million private placement on Wednesday to fund its next phase of drilling.
The company plans to issue up to 18 million special units at 14 cents each. Units will include both a common share and a full warrant, exercisable at 21 cents for the next 24 months, or until Kerr shares exceed a volume-weighted average price of 30 cents for 20 consecutive days. The offering is expected to close on Feb. 28.
Proceeds will be used for another round of drilling at the company's Copperstone project in western Arizona, a historically-producing mine which it acquired in 2014.
In the first, 5000-metre round of underground core drilling at Copperstone, the company intercepted modest grades including 27.45 grams of gold per tonne (g/t Au) over 3.0 metres, 40.0 g/t Au over 16.8 metres, and 15.02 g/t Au over 6.1 metres. The company plans to drill an additional 10,000 metres early this year, hoping to expand the resource through more underground assays.
In recent channel sampling, a method which takes collects and analyzes small chips of rock along a line, the company intercepted grades including 13.3 g/t Au over 2.5 metres and 4.0 g/t Au over 2.5 metres. It says it will use these results to pinpoint targets for the 2020 drill program.
Kerr says that the Copperstone zone it is targeting is an extension of the vein that was historically mined as an open pit, producing 500,000 ounces of gold at an average grade of 3.0 g/t Au.
Kerr Mining is led by CEO and director Giulio T. Bonafacio, a certified public accountant who previously helmed Nevada Copper Corp. (TSX: NCU) from 2005-2018. Its president is Martin Kostiuk, a mining engineer who cut his teeth supervising Goldstrike Mine for Barrick Gold Corp. (TSX: ABX).
Following the news of the private placement, shares of Kerr Mines dropped 1.5 cents to 13.5 cents.