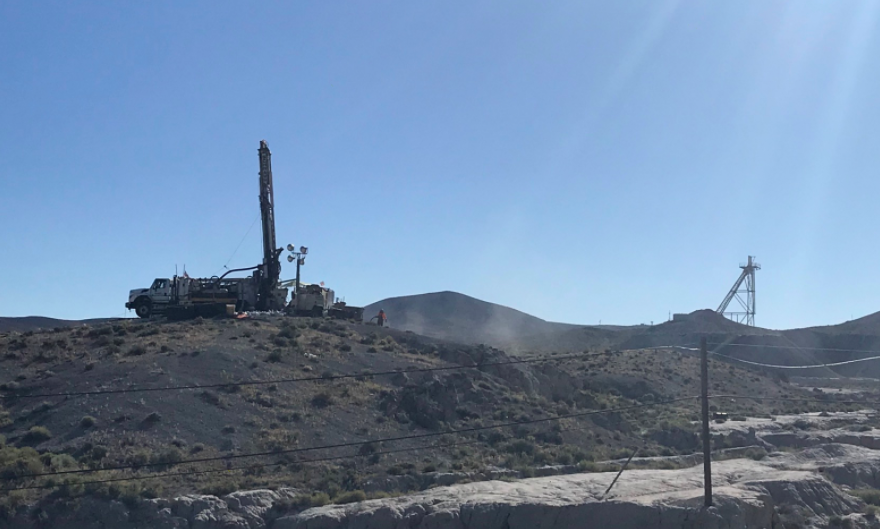 Image: Blackrock Gold Drilling, courtesy Blackrock Gold Corp., ©2020
Shares of Blackrock Gold Corp. (TSX-V: BRC) more than doubled in value on Monday on 5.45 million shares after the company announced that it has intersected excellent grades of silver and gold at its Tonopah West project in western Nevada.
In its first round of assays from its initial 7,285-metre drill program at Tonopah West, Blackrock hit 3.04 metres of 2,197.70 silver-equivalent grams per tonne (g/t AgEq) from a previously unknown vein. The company also assayed 28.96 metres of g/t AgEq, and 3.04 metres of 464.44 g/t AgEq from the same hole.
Blackrock Gold CEO Andrew Pollard cheered the results in the release, calling them "nothing short of remarkable," adding that the company's drill program targeting the historic workings of the Tonopah silver district will expand beyond the originally-expected 7,000 metres.
Blackrock Gold optioned the property from Ely Gold Royalties Inc. (TSX-V: ELY) in April for US$3 million, hoping to expand the resource of a region that produced 174 million ounces of silver between 1900 and 1950. The company began drilling in June and is now bringing on another rig to follow up on these encouraging results.
The company closed a $4.5 million private placement to fund the program back in June. Each unit in the deal included a common share and a full warrant exercisable at 30 cents for three years. At the close of the market on Monday, those warrants were already in the money by 190%.
Shares of Blackrock are up 278.3% year-to-date at the time of writing to 87 cents per share.